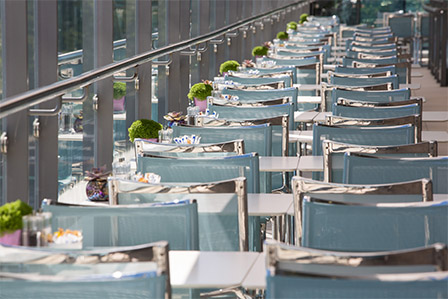 The Terrace self-service restaurant provides debenture holders with food and beverages throughout the day. It is an ideal location for a quick lunch or afternoon tea while enjoying the wonderful view from the balcony looking out over the Tea Lawn.
Refreshments are available from 10.30am and lunch from 11.00am. Supper dishes are available from 6.00pm-8.00pm daily.
Light refreshments are available such as bloomer sandwiches, a selection of cakes and Devon scones, jam and clotted cream along with hot and cold beverages.
Pricing for a main course salad starts from..........£16.50
In the event of the roof being closed to ensure play due to darkness, supper baskets will be available in The Terrace until play resumes under the roof.
It is not possible to make reservations. At busy times our hosts will assist in seating guests and we recommend you arrive early.
The Championships 2018