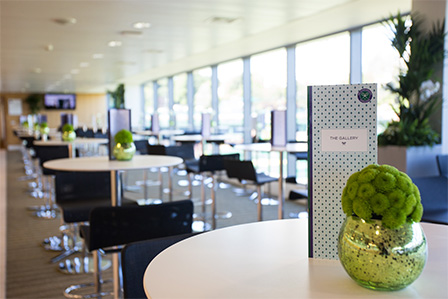 The Gallery bar provides wonderful views over the outside courts and the London skyline and has been designed for debenture holders to enjoy a great selection of drinks in an elegant setting. A limited food offer is available from 11am-2pm for debenture holders to enjoy with their drinks. The bar remains open until 10pm or 30 minutes after the end of play, whichever is earlier.
However, in the event of the roof being closed to ensure play due to darkness, The Gallery will be available until play re-commences under the roof.
Primarily designed as a bar for debenture holders to enjoy a drink before, during and after the main play of the day, we now offer a light luncheon food offer. Designed for guests wanting a more relaxed style of cuisine the bar serves a range of sandwiches, sushi and coffees.
The coffee bar is open from 10.30am serving a range of Lavazza coffees and tea. A selection of pastries is available to accompany your morning coffee.
The Championships 2017